Dedicated and Caring Advocates
Rhode Island and Massachusetts Immigration Lawyer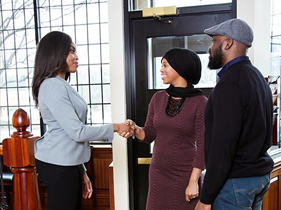 The Law Office of Saikon Gbehan is a full-service immigration law firm that provides comprehensive immigration solutions to individuals, families, and companies across the country. As a child of an immigrant family, Attorney Gbehan understands the challenges that her clients face and uses her expertise to provide each client with a customized plan designed to deliver the best results. As an esteemed Rhode Island and Massachusetts immigration lawyer, she has had great success assisting clients with their immigration needs and prides herself on having a positive track record.
Attorney Gbehan is committed to providing her clients with legal services of the highest quality in a prompt, courteous, cost-effective, and ethical manner. A client's overall satisfaction is a top priority. Attorney Gbehan maintains regular contact with clients regarding their immigration cases and responds to all inquiries promptly.
How We Can Help
We are prepared to help you with any immigration issues, including:
As a United States citizen or legal permanent resident, you can petition for your relatives to receive family-based immigrant visas and join you in the United States.

Learn More

Having a United States Green Card, also known as a Permanent Resident Card, gives the holder permanent residence in the United States and the ability to legally live and work in the United States.

Learn More

If you are facing deportation or removal, the legal representation that you choose could be life-changing.

Learn More
We understand the immigration process. Contact us today
to find out how we can assist you by calling (401) 228-0001.