Motorcycle Accidents
Dedicated Motorcycle Accident Lawyer in Rhode Island and Massachusetts | Personal Injury Specialist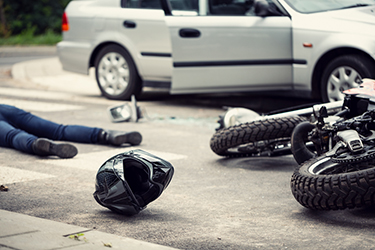 With motorcycles gaining popularity in Rhode Island and Massachusetts, the motorcycle accidents count rises each year. This increase puts motorcyclists at a heightened risk of severe injury and even death. Regardless of helmet use, the danger level remains. Compared to other types of highway accidents, motorcycle accidents often result in a more significant rate of injury or death.
Usually, other motorists on the road, and not the motorcycle riders, cause these accidents. A multitude of factors, including defective motorcycle products, road hazards, weather, and drunk drivers, can lead to motorcycle accidents. Additionally, frequently, an inability to see motorcyclists on the road plays a part.
Attorney Saikon Gbehan, a prominent Motorcycle Accident Lawyer, understands the danger bikers face. They remain especially vulnerable when other motorists and those responsible for maintaining safe roads act negligently. If negligence on the road causes harm, our personal injury law firm, The Law Office of Saikon Gbehan, LLC.,resolutely stands to protect bikers' interests.
Also, if a motorcycle accident has caused injury or death to you or a loved one, you may be entitled to compensation. Additionally, this compensation can help cover medical bills, lost income, and other damages. Our team, led by an experienced Motorcycle Accident Lawyer in Rhode Island and Massachusetts, will represent your interests compassionately. They will fight aggressively to help you receive the compensation you deserve.
Connect with us today at (401) 228-0001 or submit the online contact form to plan a consultation.