Premises Liability
Rhode Island and Massachusetts Premises Liability Attorney | Personal Injury Lawyer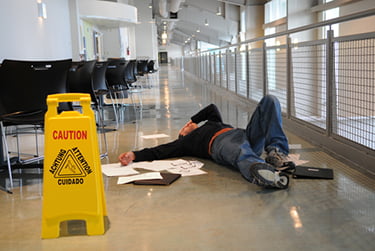 Premises liability generally refers to injuries that occur to victims as a result of dangerous conditions on someone else's property. Property owners and businesses have a legal duty to provide a safe environment for their visitors. When a hazard causes an injury, the property owner or tenant can be held responsible for the damages, including the injured person's medical expenses, pain and suffering, and lost wages. A knowledgeable Rhode Island and Massachusetts premises liability lawyer can help you determine whether a property owner may be liable for your injuries.
Proving Liability
A property owner or occupier is not liable for every injury on the premises. There must be actual fault or negligence on behalf of the owner or occupier, which means that he or she failed to use reasonable care to keep the property in a reasonably safe condition. The property owner or occupier has a duty to inspect and regularly maintain the property, identify unsafe conditions, or repair or warn others of potential hazards. Premises liability cases can be complex, so it is important to seek the advice of an experienced Rhode Island and Massachusetts personal injury lawyer to determine the strength of your claim and ensure that you have the best chance at winning your case.
Comparative Negligence
A visitor on someone else's property must also act reasonably. If a dangerous or defective condition of a property is so obvious that a person could reasonably be expected to see it, the owner or occupier of the property may not have a duty to warn others about the condition. If a reasonable person would have seen the unsafe condition and been able to avoid it, the injured person may be found partially or entirely at fault for the accident. If a victim is partially at fault, the concept of "comparative negligence" may apply, which means that the amount of money damages an injured party is entitled to receive will be reduced by the degree to which they are, themselves, at fault.
Common Examples of Premises Liability Accidents
We are well versed in all types of premises liability accidents, including:
Slip and Fall Accidents
Trip and Fall Accidents
Inadequate or Negligent Security
Inadequate Lighting
Dog Bites
Swimming Pool Accidents
Assaults and Attacks
Trip and Fall Accidents
Construction Site Accidents
School Ground Accidents
How We Can Help
At the The Law Office of Saikon Gbehan, LLC., our premises liability attorney handles accidents occurring in a wide variety of settings, including homes, businesses and stores, apartments, schools, construction sites, hospitals, nursing homes and government buildings. If you have been involved in a premises liability accident or lost a loved one in an accident resulting from a landlord's negligence, please call us today at 1-855-STG2LAW for a consultation. Our highly qualified and experienced premises liability attorney has a wealth of experience helping victims of Rhode Island and Massachusetts premises liability accidents.
Contact us today at (401) 228-0001 to schedule a consultation.